You love substitute teaching. You love the flexibility and freedom of choosing your own hours. You look forward to working with students on a day-to-day basis and making a real difference in their lives. You enjoy teaching a range of age groups and subjects and keeping your knowledge base fresh and up-to-date.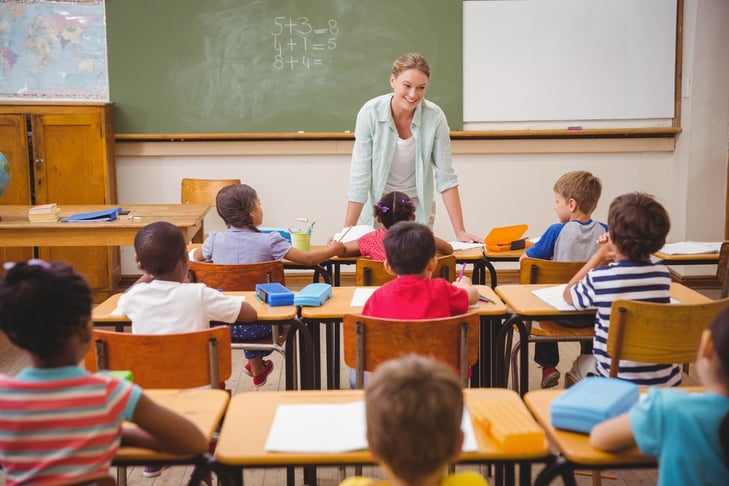 In fact, you love substitute teaching so much that you want to continue on this career path for years to come. You know without a doubt that you want to turn substitute teaching into your long-term occupation. What you don't know, however, is how to land a position as a permanent substitute teacher.
Keep reading to learn how you can successfully transition to long-term substitute teaching and do what you love for a living.


1) Make a great first impression
First impressions can have a huge impact on your success as a substitute teacher. That's why it's so important to be ready for anything. Come prepared to each classroom with teacher supplies and classroom activities. You never know when the regular teacher might forget to provide a lesson plan, and it's better to be safe than sorry.
Always be punctual to your assignments. Arrive with plenty of time to tour the school and ask questions about school policies or procedures. And never forget the importance of your attire. Women should wear dress pants or a skirt paired with a nice blouse or sweater. Men should wear dress pants, a dress shirt and a tie. It's better to overdress for the first few days of substitute teaching at a school than wearing an outfit that's too casual.


2) Stay positive
Every employer loves positive employees, and school districts are no exception. Whatever comes your way, keep a smile on your face and let your positive attitude shine through. I know; easier said than done. Staying positive can be a challenge when children are wreaking havoc on the classroom or a disruptive student refuses to listen to your request.
But, remember that you're in charge and everything you say and do sets an example for the classroom. Use this to your advantage, and lay out clear expectations and a few ground rules when you first enter a classroom.
Let students know that any bad behavior will be reported to their normal teacher and never engage in power struggles with students. Instead, use positive body language and speak to any misbehaving students in calm, neutral tones. Positive thinking will motivate you, and others around you, to do the very best at your job. You'll show school administrators that you have everything under control and can handle the responsibilities and duties of a long-term substitute teacher position.


3) Get involved
Do you have a school you love substitute teaching for? Is this a school you could see yourself subbing at for a long time? Get your substitute teaching foot in the door by becoming actively involved. Show your support and dedication by attending after-school events or volunteering for fundraisers.
Reach out to teachers and secretaries and see if they need help with planning or running any events or even any day-to-day tasks. Offer to lend a hand in any hallway monitoring or additional duties around the school. A small gesture goes a long way and pretty much guarantees that they'll remember you. And it's never a bad idea to make friends and connections at a school you're interested in. They can put in a good word for you when a long-term substitute teacher is required.


4) Leave a detailed letter
Whether a teacher is absent for months, a week or even a day, they want to know everything that happened while they were out of the classroom. Fill them in on any incidents and students' progress by leaving a detailed and specific letter for the regular teacher. Let them know what students really stood out and performed above expectations.
Leave your contact information or business card in case the teacher has any questions or wants to contact you for future assignments. The teacher will appreciate the update and keep you in mind in the future.


Keep in mind that every school is different. What may work for one school might not work for another. If you have your heart set on one school in particular, take the time to understand its policies and procedures, get to know the teachers and staff, and learn the lay of the land. Show your openness and willingness to help out and fill in for teachers, and they'll know they can count on you in the future.