One of the most critical aspects of being a teacher is building strong relationships with students. Equally as important is substitute teachers building relationships with students. We know that creating relationships with students in the classroom can help increase positive behaviors and engagement, as well as focus. The benefits of having relationships with your students in the classroom and sustaining these relationships will help maximize student learning and achievement.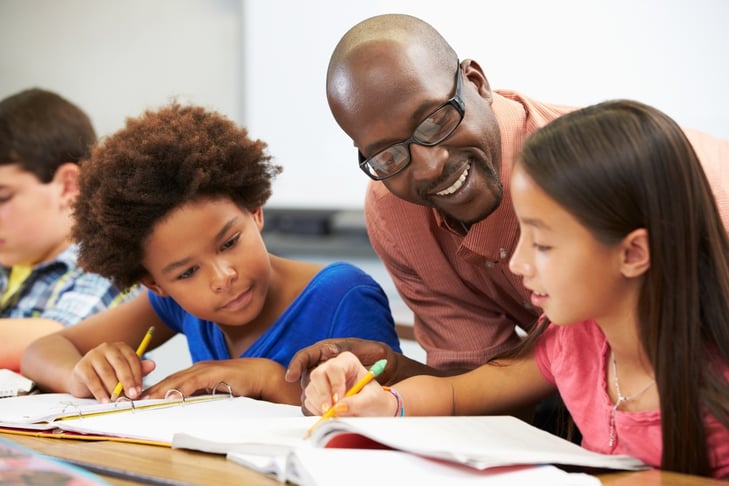 Substitute teachers have less time to form relationships but it's still just as crucial to create bonds with students they are working with. But, with limited time and often jumping from one classroom (or school) to another, substitute teachers are faced with challenges in creating meaningful relationships with the students in their classrooms. Don't fret though—there is hope! We'll give you a few tips on how substitute teachers can build relationships with students in the classroom.
1. Get to know the students
We mean really get to know them. Not just the basics, like name, favorite color and favorite food. We mean knowing them on an individual level about things not school-related. Talk to students about sports, TV, music and popular culture relevant to the age group. Ask students what's on their minds and actually listen to what they say. Listening and conversing with them will show students that you're more than just another adult and are someone who genuinely cares about them. This will help when difficulties arise, as they of course, will.
There will be exceptions to this tip, too. Students that give you difficulty or who are frequent offenders of behavior rules will be more of a challenge to build a relationship, but we encourage you to try that much harder to connect with them. Highlight the good things they do, when they do them rather than just focusing on the negatives. Provide them with the attention they need in a positive, meaningful way.

2. Attend extracurricular activities
One of the most meaningful things you can do is take time out of your very busy schedule and attend an extracurricular activity that one of your students may be participating in, or volunteer at an extracurricular activity that may need your help. The reason? These events help complete student's educational experience and are many times something they are very passionate about. Showing up to events shows students that you are invested in their success in more than just the classroom and that you care about the things they are doing outside of it. Not only that, but volunteering to help or attending school events will get you bonus points with administrators.


3. Encourage classroom discussions
Instead of carrying the lesson and having students focus on you, try having the students focus on each other. Allow students in your classroom to share their experiences. Maybe it's something about their community, their hobbies, their home or anything they deem important. Let students discuss in small groups things going on in their world and have them create debates or discussions about the topics they find are the most important in these groups. Not only is this activity something that will interest them, but it will also serve as a learning opportunity to think about other's lives and situations they are experiencing. Giving students a place to have a voice rather than just listen is a great way to provide them with just a little more authority in the classroom in an appropriate way and for you, the substitute teacher, to learn about them quickly.
4. Discipline carefully and praise frequently
As an educator, you will forever be dealing with fragile child or teenage feelings and as such, they can be hurt fairly easily. Students are insecure, and for good reason with the world we are living in. Being a student is also difficult. Constantly struggling for acceptance, keeping grades up, making friends and getting involved are all daily occurrences as a student. The quest to be, "cool" is on more student's minds than you may suspect, so when they are disciplined by a substitute teacher, some students will talk back to preserve their reputation.
Instead of criticizing or disciplining students in front of each other, make any corrections quickly and quietly. Keep your voice level and if possible, pull the student aside, meet them at their desk or before they leave the classroom to make the corrections more private. And while discipline and corrections are necessary, one of the most important things a substitute teacher can do in the classroom is provide ample praise to students.
When things are going well and students are doing what they're supposed to be doing, give them compliments to reinforce the behaviors that you want to see more of and give them reminders that they are doing the right things. Doing this is a great way to build a relationship and make students aware of what behaviors you appreciate.
If you're interested in becoming a substitute teacher and want to make a difference in student's lives and connect with them, then reach out to us at the Substitute Teacher Service and we'll help get you started—it's easier than you think!