Unless you've been living under a rock, you've probably seen the viral video of the 5th grade English teacher from North Carolina giving each of his students a personalized, elaborate handshake before entering the classroom. Now, every news network and social media outlet not only plasters this video but has started the conversation on the importance of understanding the differences each student has and integrating personalized touches into the school day.
Personalizing a student's school experience encompasses differentiated learning as well, where teachers tailor the learning preferences of groups of students who learn in a similar way. Substitute teachers aren't limited to honing in on differentiating only lesson plans, but also the learning styles of students. However, personalized learning takes it a step further, with even more specific, yet manageable touches, like the learning pace of different students.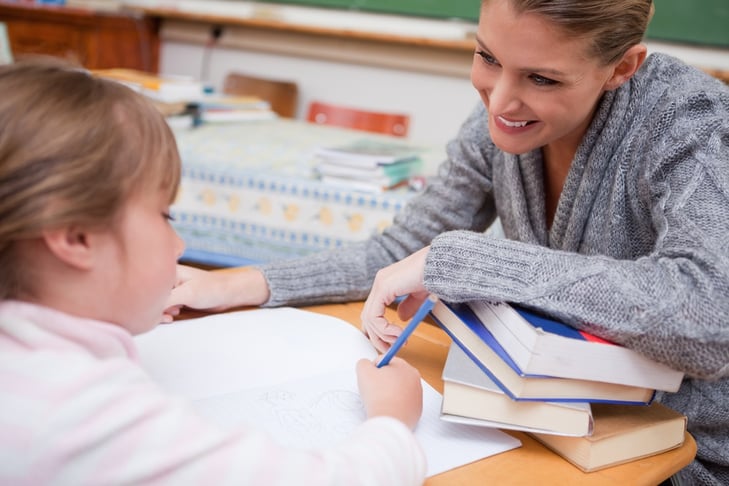 The difference between personalized, differentiated and individualized learning methodologies are that personalized learning actually involves the student in the development and creation of specific learning activities. This method also looks at a student's personal interests and curiosities that play into who the student is as a person. So, much like individual handshakes created by a teacher that plays on the personality traits of a student, personalized learning takes personality traits into consideration providing the ultimate customized experience for students.
So, as a substitute teacher, you're probably wondering how you can achieve personalized instruction in such a short amount of time? We'll give you a few easy ways to integrate personalized touches in the classroom and provide students with a world-class learning experience, even if you're only in the classroom for a day or two.


Let Students Make Choices
We're not talking about allowing students to have free reign over the classroom all day (because we know that would end up in mostly recess and computer time), we're talking about a few pieces here and there where students are allowed to chose. Keep your goals for the lesson (or the teacher's, if there is a lesson plan) but have students choose the order in which they complete the elements to the lesson based on their preferences. Allowing students to choose their learning path gives them ownership over their experience.
These choices should be small and things that feel significant and impact the student in some way, but not large enough to change the lesson plans left for you. One such example could be the students having to choose between reading silently, reading along and listening to a story, reading aloud or reading and listening as they record their own thoughts or make notes.
Another popular choice for students to make could be a writing assignment. If, as the substitute teacher, you are looking to test to see if students are absorbing a lesson or the end goal of a lesson a teacher left for you is to complete a writing assignment, have students choose what kind of writing they would like to do. Maybe it's a persuasive piece, a story, a poem, a news report, a movie or play script or just a straightforward essay. As long as the lesson goal is still met, the way you get there can be adjusted to make students understand a lesson better or engage them more efficiently.
Use Different Methods of Delivery
Again, no need to change the lesson plan when adjusting tiny things like this. Stick to the lesson plan and the common goal teacher has left for you. As a substitute teacher, you do have freedom to teach the way you see fit, but teachers ask that you cover what they leave to meet any regulations or state requirements they may be facing. One way to change things up while still sticking to the teacher's lesson plan is to play with the delivery method of lessons.
Each student learns in different ways, and require lessons to be delivered in more ways that just the standard lecture. Instead, try interesting, educational videos found on Discovery Channel, History Channel or videos from the school library. Maybe it's a PowerPoint or Prezi presentation (if you're a long-term sub and have the time). It could also be Polls, Quizzes, the SmartBoard, group work and collaborative methods, student presentations or even games. Get as creative as you'd like, but always keep the lesson objectives and goals in mind and be sure to meet those goals by the end of the day.
Just because you're a substitute teacher and not a permanent fixture in any given classroom, doesn't mean you can have a big impact on student learning and provide exceptional instruction to any student that you encounter. Using personalized instruction takes practice and some time outside of the classroom scouring for specific ideas to specific lesson plans, but take the time needed and you will reap the benefits of students who are fully engaged, lesson plan goals that are met with ease and an enjoyable experience in any classroom you are assigned to.
If you think you would like to become a substitute teacher, contact the Substitute Teacher Service today to learn more and let us get you started with a dynamic career that is both meaningful and exciting, all while helping out in your community!